This article was originally published on MamaMia
Over the years, the Nobel Peace Prize has chosen some doozy candidates, but it remains one of the world's most pre-eminent honours. Tonight, the Norwegian Nobel Committee will give the 2018 Nobel Peace Prize to Nadia Murad and Dr Denis Mukwege. Both these people have fought for years to end sexual violence in armed conflict.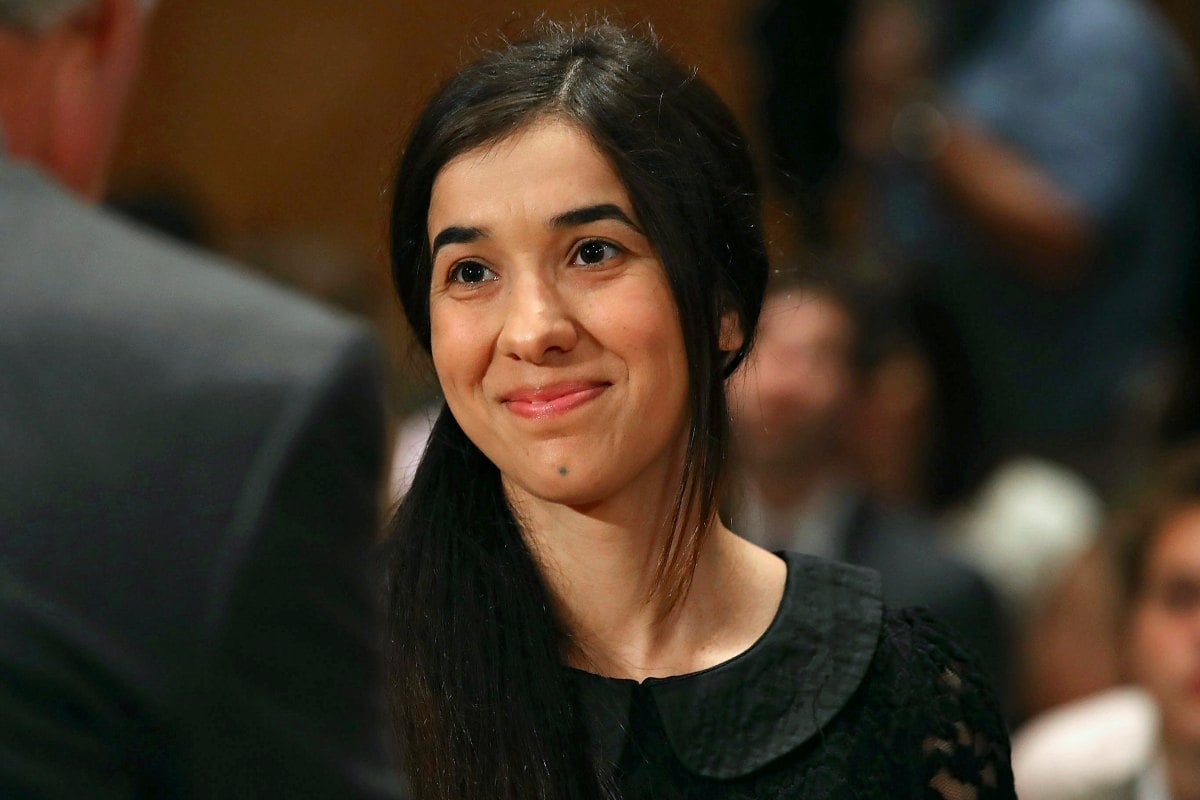 Nadia Murad grew up in a small town in northern Iraq. She dreamed of becoming a teacher or a beautician. But in 2014, her life was torn apart when ISIS forces swept through her village in an effort to kill the men in her community, enslave the women and girls, and convert the boys. Nadia is a member of a small religious and ethnic community. Although they believe in one heavenly God, ISIS believe they are devil worshippers. That day, Nadia was kidnapped, trafficked to Mosul and sold into sexual slavery. She was beaten and brutally gang raped for a month before finally escaping.
As in so many communities, Nadia, and women like her who are so brutally assaulted, feared the shame of their community. But she bravely stood up and told her story. What happened to Nadia was not her fault. The only person to blame for rape is the rapist. But what Nadia experienced was not just rape, it was part of a campaign to eradicate her community. It was genocide.
As difficult as it can be for survivors to tell their stories, Nadia sat before the United Nations Security Council and told the world what had happened to her. She told them of the pain and suffering she experienced at the hands of ISIS. She told them what they'd done to her whole community.
Since then, she has continued to campaign for justice. She feels her survival obliged her to fight for the rights of persecuted minorities and victims of sexual violence, but she reiterated that she wanted to see perpetrators of sexual violence in a courtroom, not executed.
However, in many ways, she is still beholden to the experience forced upon her. She is still a relatively ordinary young women, wanting to train to be a beautician; but has been thrust into the spotlight because of her bravery, and the heinous acts of men from around the world.
After the announcement was made, in a nod to the #MeToo movement and the Kavanaugh hearings, Nadia said, "My hope is that all women who speak about their experience of sexual violence are heard and accepted."
Nadia is currently working to help rebuild villages that were destroyed in the battle with ISIS. Villages were burned to the ground, there is no medicine or food, and no crops in fields. While the Nobel Prize money – her share will be about half a million US dollars – will be very much appreciated, it won't go far in the face of such great need. She explained that it costs about $US20-30,000 to buy back a Yazidi sex slave and estimated there are about 300 women and girls still held in captivity.
She has now called "on governments to join me in fighting genocide and sexual violence." The Australian parliament has committed to investigating and prosecuting these crimes, but so far has not acted to do so. In order to begin, they would need to establish and fund a dedicated team to investigate and prosecute our nationals who perpetrate these crimes as well as gather testimony from Yazidis who now call Australia home.
"A single prize and a single person cannot accomplish these goals. We need an international effort," Nadia said.
If all governments undertook such efforts, then, perhaps Nadia will have the prize she truly seeks, justice for her and her community, and a serious step toward ending impunity for conflict related sexual violence.
If you'd like to help Nadia's cause, you can donate to Nadia's Initiative right here.